Support Federal Employee Whistleblowers
Federal employee whistleblowers should have access to federal court review. Currently, federal employees cannot have their whistleblower cases heard in federal district court, but must instead rely on the Merit Systems Protection Board (MSPB), which has a severe backlog of cases.
Support Federal Employee Whistleblowers
Protect the False Claims Act
The False Claims Act, which includes a qui tam, or whistleblower, provision, is one of the U.S.'s most effective laws in fighting fraud against the government, and gives power to the individual to pursue a False Claims Act lawsuit and ensure justice is done.
Protect the False Claims Act
Protect the SEC Whistleblower Program - Save the Dodd-Frank Act
The Dodd-Frank Act, which created the Securities and Exchange Commission's Office of the Whistleblower, has been shown as incredibly effective this past decade. Yet, it is under threat from multiple outside interests who want to silence whistleblowers. Learn more about what the NWC is doing to stop them.
Save SEC Whistleblower Program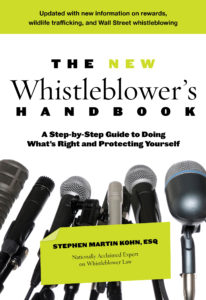 Donate $50 or more to get one free copy of The New Whistleblower's Handbook
Donate today