The Story of Howard Wilkinson:
Howard Wilkinson is an international hero who risked his livelihood to stop what many experts consider to be the largest money laundering scandal in world banking history at Danske Bank. His compelling story was the focus of an explosive 60 Minutes story on May 19, 2019.
One of the key elements of the story is the critical role that whistleblower protections enacted by the U.S. Congress, the European Parliament and other legislative bodies play in protecting and rewarding whistleblowers like Mr. Wilkinson. But much more can be done to strengthen whistleblower laws in the U.S. and abroad. The National Whistleblower Center is focused on strengthening the protections and incentives provided to whistleblowers around the world under U.S. law. In addition, we are working with partners in other countries to ensure that these corruption-fighting tools are made more broadly available.
Securities fraud is one of the most impactful and insidious forms of lawbreaking. As shown in the Wilkinson case, the effects of securities fraud are widespread and dramatic.
Overview of the Danske Bank Scandal
Mr. Wilkinson is a former employee of Danske Bank who confidentially raised concerns over an illegal money laundering scheme in 2013. In September 2018, news reports on the $234 billion money-laundering scandal revealed the existence of a whistleblower but not the identity. Mr. Wilkinson had wished to remain anonymous, but soon thereafter his name was leaked to an Estonia newspaper.
Mr. Wilkinson is represented by Stephen M. Kohn, a leading whistleblower attorney and founding partner of the Washington, D.C.-based firm Kohn, Kohn & Colapinto, and Chairman of the Board of Directors for the National Whistleblower Center. Mr. Kohn has over 30 years of experience advocating for whistleblowers around the world.
Numerous European law enforcement agencies are now investigating what many believe may be the largest money laundering scheme in history, with billions of dollars reportedly flowing from Russia and other former Soviet states, through Estonia and to major banks such as Deutsche Bank, Bank of America, and JP Morgan. Watch Wilkinson and Kohn's testimony at the European Parliament here.
In the U.S., the Securities and Exchange Commission, the Internal Revenue Service, and Department of Justice are investigating the scandal. According to the Wall Street Journal, the IRS has the authority to restrict the supply of U.S. dollars flowing to banks when money-laundering is suspected. This is known as a "death blow sanction" that can send a foreign bank into collapse.
Why It Matters
The Danske Bank scandal raises a host of public policy issues regarding how to prevent banks from assisting large-scale criminal syndicates with their ill-gotten gains. A key focus of the National Whistleblower Center (NWC) is to highlight the critical role of whistleblower protections in making money-laundering schemes known to law enforcement officials and policymakers, and in providing them the steady supply of information needed to prosecute wrongdoers and enact policy solutions.
Protections and Incentives Are Needed
Independent research organizations agree that whistleblowers are the single most important resource for detecting and preventing corporate fraud.  The 2007 PWC study found that internal "controls" designed to detect fraud were "not enough" and that whistleblowers needed to be encouraged to report wrongdoing and protected from retaliation.  The study found that 43% of corporate fraud was uncovered by whistleblowing related activities.
The University of Chicago Booth School of Economics found that "[a]lthough whistleblowers are the single most common and most valuable source of information on fraud and corruption, only a small fraction of employees who come forward report to anyone outside the company."
Based on this and other research on the effectiveness of corruption-fighting tools, NWC advocates for laws and policies that protect the anonymity of whistleblowers, protects them from retaliation if their identity becomes known and incentivizes their cooperation through financial rewards. Under a host of U.S. laws, financial rewards are provided to whistleblowers who contribute to the assessment of civil or criminal penalties against wrongdoers; the amount is based on the size of the penalties and the importance of the whistleblowers' information to the success of the enforcement action.
Confidentially Report Fraud and Seek Legal Advice
One methods for a whistleblower to determine whether they are protected and rewarded under U.S. law is to have a potential claim confidentially reviewed using NWC's secure, confidential intake form. To help whistleblowers obtain free-of-charge expert advice, NWC has enlisted its partner, the National Whistleblower Legal Defense and Education Fund, to review potential claims and connect whistleblowers with qualified attorneys. All contacts with this service are strictly confidential and covered under the attorney-client privilege to the maximum extent permitted under U.S. law. Additional information can be obtained at Whistleblower Legal Assistance Program.
Donate to Receive the Whistleblower Handbook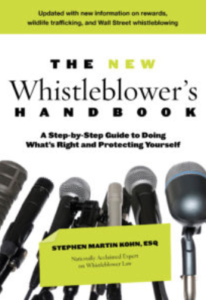 Read The Whistleblower's Handbook: A Step-by-Step Guide to Doing What's Right and Protecting Yourself. The Handbook was described by the Foreign Corrupt Practices Act Compliance and Ethics Blog as "the single best volume" on whistleblowing. The Handbook includes detailed information on all the U.S. reward laws, including the Foreign Corrupt Practices Act and the law that resulted in UBS whistleblower Bradley Birkenfeld obtaining a $104 million reward. The Handbook can be ordered from various commercial booksellers or from the National Whistleblower Center at www.whistleblowers.org/book by making a donation of $50 or more.
Please donate so that the NWC can expand its work assisting whistleblowers tackle corruption that is plaguing the banking industry and Wall Street.