Tech industry whistleblowers are speaking up and a lack of government action to regulate this incredibly large and influential industry has left concerned employees feeling powerless. NWC is at the forefront of engaging with tech industry whistleblowers and works proactively to help build momentum for the meaningful use of the incredible tips these insiders provide.
Join NWC's Executive Director, Siri Nelson, for a series of intimate sessions tailored to address tech industry employees and investors.
At each session we will discuss:
Legal Theories

– how legal theories have been developed over the years, and how the latest Facebook Legal theory was used by Frances Haugen in Congress, when she asked them to act to protect her from any retaliation.

Facebook Cases – attorneys have assisted multiple anonymous whistleblowers in filing complaints with the SEC. Each complaint outlines the various manners in which Facebook's decisions systemically support and amplifies crime for profit on its family of platforms.
Tech Accountability – whistleblowers can change the world by coming forward about unethical tech practices. We'll talk about how whistleblowers can fortify their efforts to make technology safer and more transparent, which improves value for investors, and protects them from risk.
Anonymous Whistleblowing – insiders with information about unethical practices can anonymously report their concerns to various government agencies, and potentially also receive a reward for their information if it involves fraud.
These sessions are perfect for anyone in the tech industry, from engineers to HR managers and tech investors. There will be information for you!
These 2 hour in person sessions will include ample time for Q & A:
If you support Tech Industry Workers, please consider donating to support NWC's $10k for Tech fundraiser. Your donations make dedicated programs like this possible!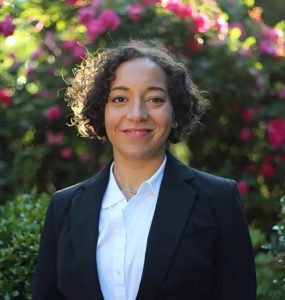 Siri Nelson
Siri Nelson is the Executive Director of the National Whistleblower Center. Nelson served as a research assistant to renowned Privacy expert, Professor Woodrow Hartzog, and has worked with anonymous tech industry whistleblowers as an Associate Attorney and Policy Counsel at Kohn, Kohn and Colapinto, the nation's leading whistleblower law firm.
Siri was a Public Internet Public Interest Opportunities Program clerk at the Electronic Privacy Information Center (EPIC), and obtained her law degree from Northeastern University School of Law where she was among the first cohort of students to graduate with a concentration in Privacy. Ms. Nelson's deep interested in tech industry regulation is bolstered by a deep understanding of regulatory and legislative issues surrounding the industry and the challenges facing its workers around the world.
Nelson has been published in Columbia's Blue Sky Blog and The National Law Review. And is an Adjunct Professor at Northeastern University School of Law,  she also serves as an Editor & Legislative Correspondent at Whistleblower Network News.
RSVP Today! Please choose your city from the list below.