How to Sign Up
Attorneys licensed and in good standing in their respective jurisdiction(s) can be listed in the Whistleblower Attorney Directory.
An electronic, color version of the Directory is sent to all whistleblowers who fill out a confidential report form.
Listing information includes your name, firm name, email and website addresses, and a listing of practice areas for which you are accepting clients.
For more information read the Whistleblower Attorney Directory FAQs. If you have questions, please email help@whistleblowers.org.
There is no fee for a basic listing in the directory. However, the Fund does charge for expanded listings (linking to attorney website) and for advertisements placed in the directory.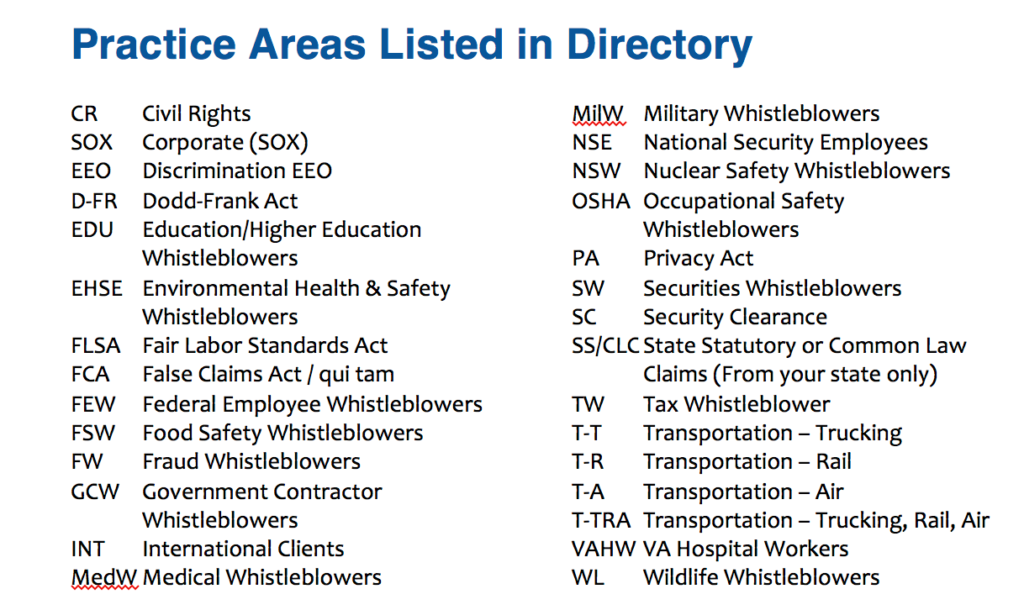 This page is operated by the National Whistleblower Legal Defense & Education Fund.
1800 M Street, #33888
Washington, DC 20333
202-342-1902
Notice: The information contained in this Web site is provided for informational and/or educational purposes only, and should not be construed as legal advice on any matter. Read full Disclaimer here. The Fund is managed independently from NWC. NWC has no responsibility for actions taken by the Fund.