International Fund for Animal Welfare—World Wildlife Day Youth Art Contest
IFAW announced a global art contest in partnership with the Convention on International Trade in Endangered Species of Wild Fauna and Flora (CITES) and the United Nations Development Programme (UNDP) for World Wildlife Day (WWD) 2019! The theme for WWD 2019 was Life Below Water so this year's art contest will be marine focused and aims to help youth build a sense of connection with the marine world. The winning entry was presented at the high-level WWD event at the United Nations Headquarters in New York City, NY, on March 1, 2019. More information can be found on the IFAW website.
Wildlife Justice Commission
World Wildlife Day: High-level side event at the UN Headquarters
Building anti-corruption measures into Illegal Wildlife Trade interventions
"Wildlife crime is an urgent issue, it requires strengthening cooperation between different agencies and maintaining the momentum to ensure the allocation of resources to effectively deter this transnational organized crime," stated Her Royal Highness (HRH) Princess Laurentien of the Netherlands, summarising the main conclusions from the session on corruption and illegal wildlife crime that we organized at the UN Headquarters on 4 March to mark World Wildlife Day.
Her Royal Highness (HRH) Princess Laurentien of the Netherlands facilitated the session and the dialogue between the panel members and a very proactive audience, which engaged in the conversation with the speakers.
You can read the full summary of the discussion and contributions here.
WJC has launched their first podcast, Women against wildlife crime, to listen to testimonies of those women working to put an end to wildlife crime. Crime investigators, intelligence analysts, lawyers, communicators. Women are and have always been at the forefront of the fight against wildlife trafficking, a multi-billion-dollar transnational organized crime that is threatening our already scarce wildlife. Listen to the first podcast here. 
World Wildlife Fund—Lunar New Year Campaign
The Year of the Pig is almost here! And with it, the opportunity to travel and purchase souvenirs for your loved ones. We have partnered with WWF to provide a few tips for choosing sustainable and heartfelt gifts that won't get you into trouble with a customs agent. Elephants have long been regarded as symbols of good fortune and strength. But each year, at least 20,000 elephants are poached for their tusks. China banned domestic commercial ivory trade at the end of 2017. Since then, it has been illegal to buy or sell ivory in physical or online markets. Transporting ivory in and out of China is also illegal. And yet, many travelers still get caught bringing ivory home, spoiling memories of their trip and having items confiscated
WWF has launched a campaign to engage Chinese outbound travelers to Thailand and Vietnam during the February 2019 Lunar New Year travel holiday to reduce their purchase of ivory.
View WWF's Public Awareness Video (in Chinese).
Jane Goodall Institute—Forever Wild Campaign
The Jane Goodall Institute has launched a campaign called "Forever Wild," which offers opportunities for individuals to become better informed and take action in support of JGI's efforts to stop the trade in endangered species.  You can watch Jane's video and read our blog page, and spread the word on social media (#4EverWild @janegoodallinst).
Association of Zoos & Aquariums & Wildlife Trafficking Alliance —Save Vanishing Species ("Tiger Stamp")
About the Tiger Stamp
The Save Vanishing Species semi-postal stamps provide funding for projects supported by the Multinational Species Conservation Funds (MSCF), which are administered by the U.S. Fish and Wildlife Service (USFWS) to conserve endangered species in the wild. Net proceeds from the sale of the stamp, which features an illustration of an Amur tiger cub, directly support efforts to save critically endangered species like rhinos, elephants, tigers, turtles, and great apes—at no cost to U.S. taxpayers. To date, 99 projects in 35 countries have been funded to help these beloved, highly threatened species. The stamp is currently on sale nationwide via the U.S. Postal Service (USPS) and online.
The Save Vanishing Species semi-postal stamp was created through federal legislation which was signed into law in September 2010. Passage of the law was spearheaded by the Multinational Species Coalition, a coalition of 33 organizations led by Wildlife Conservation Society and World Wildlife Fund, of which the Association of Zoos and Aquariums is a member. Order your Save Vanishing Species stamps here: bit.ly/SaveSpeciesStamp.
The International Network for Environmental Compliance and Enforcement — 10th International Conference
In September 2019, the INECE will hold its 10th International Conference in Edinburgh, Scotland. The conference theme for 2019 is "Are the Rules Enough? Challenging, Exploring and Shaping the Future of Environmental Compliance and Enforcement Together." For more information visit INECE's 2019 Conference Website.  Learn more about INECE's Programs.
Share this Image On Your Site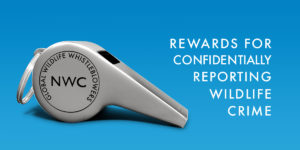 Please include attribution to www.whistleblowers.org/wildlife with the graphic above.