Screening of Sea of Shadows
National Geographic Documentary Films has secured worldwide rights to the environmental documentary "Sea of Shadows," executive produced by Leonardo DiCaprio. Scott Hajost, managing director of Global Wildlife Whistleblower Program, will attend the screening of the award wining documentary.
Directed by Richard Ladkani ("The Ivory Game"), the documentary premiered at this year's Sundance Film Festival and won the Audience Award for world cinema documentary.
International Fund for Animal Welfare—World Wildlife Day Youth Art Contest
IFAW announced a global art contest in partnership with the Convention on International Trade in Endangered Species of Wild Fauna and Flora (CITES) and the United Nations Development Programme (UNDP) for World Wildlife Day (WWD) 2019! The theme for WWD 2019 was Life Below Water so this year's art contest will be marine focused and aims to help youth build a sense of connection with the marine world. The winning entry was presented at the high-level WWD event at the United Nations Headquarters in New York City, NY, on March 1, 2019. More information can be found on the IFAW website.
Wildlife Justice Commission
World Wildlife Day: High-level side event at the UN Headquarters
Building anti-corruption measures into Illegal Wildlife Trade interventions
"Wildlife crime is an urgent issue, it requires strengthening cooperation between different agencies and maintaining the momentum to ensure the allocation of resources to effectively deter this transnational organized crime," stated Her Royal Highness (HRH) Princess Laurentien of the Netherlands, summarising the main conclusions from the session on corruption and illegal wildlife crime that we organized at the UN Headquarters on 4 March to mark World Wildlife Day.
Her Royal Highness (HRH) Princess Laurentien of the Netherlands facilitated the session and the dialogue between the panel members and a very proactive audience, which engaged in the conversation with the speakers.
You can read the full summary of the discussion and contributions here.
WJC has launched their first podcast, Women against wildlife crime, to listen to testimonies of those women working to put an end to wildlife crime. Crime investigators, intelligence analysts, lawyers, communicators. Women are and have always been at the forefront of the fight against wildlife trafficking, a multi-billion-dollar transnational organized crime that is threatening our already scarce wildlife. Listen to the first podcast here. 
Association of Zoos & Aquariums & Wildlife Trafficking Alliance —Save Vanishing Species ("Tiger Stamp")
About the Tiger Stamp
The Save Vanishing Species semi-postal stamps provide funding for projects supported by the Multinational Species Conservation Funds (MSCF), which are administered by the U.S. Fish and Wildlife Service (USFWS) to conserve endangered species in the wild. Net proceeds from the sale of the stamp, which features an illustration of an Amur tiger cub, directly support efforts to save critically endangered species like rhinos, elephants, tigers, turtles, and great apes—at no cost to U.S. taxpayers. To date, 99 projects in 35 countries have been funded to help these beloved, highly threatened species. The stamp is currently on sale nationwide via the U.S. Postal Service (USPS) and online.
The Save Vanishing Species semi-postal stamp was created through federal legislation which was signed into law in September 2010. Passage of the law was spearheaded by the Multinational Species Coalition, a coalition of 33 organizations led by Wildlife Conservation Society and World Wildlife Fund, of which the Association of Zoos and Aquariums is a member. Order your Save Vanishing Species stamps here: bit.ly/SaveSpeciesStamp.
The International Network for Environmental Compliance and Enforcement — 10th International Conference
In September 2019, the INECE will hold its 10th International Conference in Edinburgh, Scotland. The conference theme for 2019 is "Are the Rules Enough? Challenging, Exploring and Shaping the Future of Environmental Compliance and Enforcement Together." For more information visit INECE's 2019 Conference Website.  Learn more about INECE's Programs.
Thinking Animals United — Rethinking Animals Summit 2019
Thinking Animals United will be hosting their annual summit, Rethinking Animals Summit 2019 subtitled: "The Unsustainable Cost of Our Treatment of Other Species", this September at the SVA Theater in New York City. Board Chairman and NWC founder, Stephen Kohn, will be a featured speaker on the "Tools for a Safer Future" panel on Saturday, September 14th. For more information on the Summit visit Thinking Animal United's 2019 Summit webpage.
Partner with Us
Based on wildlife whistleblower reports and other documentation, we know that environmental/wildlife crime continues to rise.  To address and reduce this trend, the NWC's Global Wildlife Whistleblower Program seeks to collaborate with representatives from the private sector, legal community, multilateral and non-profit organizations, legal professionals and the philanthropic community.
Together, our efforts can educate potential whistleblowers, increase the number of reported crimes, and reduce environmental crime across the globe. From joint conferences and webinars, to publications and joint fundraising. Partnership opportunities are endless! To discuss potential partnership opportunities, please contact us at contact@whistleblowers.org.
Current Global Wildlife Whistleblower Program Partners
Powerful Whistleblower Laws Can Stop Wildlife Crime
Join the National Whistleblower Center's Global Wildlife Whistleblower Program. The Program is an international campaign that supports whistleblowers who report wildlife crime. NGOs and community organizations can have a major impact by educating their local communities about available financial rewards for wildlife whistleblowers everywhere.
NGOs and other organizations can also act as whistleblowers and are eligible for monetary rewards under internationally-applicable U.S. wildlife and related laws.Add NWC's Logo to Your WebsiteWe strongly encourage partners to display the NWC "Report Wildlife Crime" logo on their websites. This is a clickable icon that links to NWC's "Submit a Report" page. The icon enables easy access for potential whistleblowers around the world to confidentially report a crime.Partnership OpportunitiesHere are some of the ways your organization can partner with the Program.
Host an NWC seminar in-person or online for your members and share our educational materials on your website.
Organize joint training and conferences.
Ask NWC for a guest blog post or article to share on your website, blog, magazine, etc.
And many other ways to collaborate! Email contact@whistleblowers.org for more details.
Download the NWC Partnership Toolkit
Find information and resources on Global Wildlife Whistleblower Program including illegal wildlife trafficking, marine conservation, and illegal timber trade. Share with your organization and the communities you work with.
Whistleblower Reward Laws
Find information on whistleblower reward laws that help with wildlife conservation and trafficking of endangered species including False Claims Act, the Act To Prevent Pollution From Ships (APPS), and the Foreign Corrupt Practices Act. Share with your organizations and communities you work for.
Share this Image On Your Site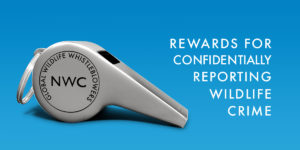 Please include attribution to www.whistleblowers.org/wildlife with the graphic above.