Since 1988, we have advocated on behalf of whistleblowers.
The National Whistleblower Center (NWC), a non-profit, tax-exempt, non-partisan organization, is the leading whistleblower advocacy organization with an over 30-year history of protecting the right of individuals to report wrongdoing without fear of retaliation and securing rewards to whistleblowers for helping deliver criminal and civil penalties against wrongdoers.
The National Whistleblower Legal Defense and Education Fund (NWLDEF) is a non-profit law firm that provides services to the NWC and whistleblowers from around the world.
0
Current Campaigns
What We Are Working On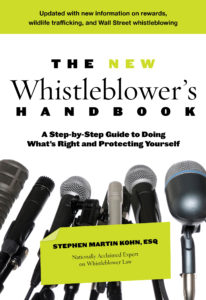 Donate Today to Protect Whistleblowers and Fight Corruption
Donate today