Free Legal Representation for Whistleblowers Since 1997
The National Whistleblower Legal Defense and Education Fund ("Fund") has sponsored a whistleblower legal assistance program for whistleblowers, attempting to locate private sector attorneys to represent whistleblowers. This program is free of charge for all whistleblowers and has connected hundreds of whistleblowers with attorneys. The Fund has never charged a fee to whistleblowers for these services. The Fund accepts intakes from government and private sector whistleblowers and reviews cases concerning retaliation, discrimination, qui tam, and lawsuits filed under the Whistleblower Protection Act (federal employees), Sarbanes-Oxley and Dodd-Frank Act (corporate employees), among numerous other federal and state laws.
In addition to these programs, the Fund provided legal representation to the National Whistleblower Center. This representation has primarily consisted of filing amicus curiae ("Friend of the Court") briefs on behalf of the National Whistleblower Center on significant precedent-setting cases.
Free Case Review Process for  Whistleblowers
Today the Fund operates a free-of-charge program in which whistleblowers can fill out a secure intake form that allows whistleblowers to submit basic information about their cases on a confidential basis. The intake form, and all communication with the Fund, are protected under the attorney-client privilege to the fullest extent permitted under law.
Please understand that this is a voluntary and pro bono process. None of the attorneys who work with the Legal Assistance Program are paid for their services. Because of the difficulty of matching whistleblowers with attorneys, we strongly recommend that all whistleblowers continue to try to locate an attorney while your case is under review.
Also, in the strongest possible terms, we recommend obtaining a copy of Rules for Whistleblowers. This book will help you understand the laws that may protect you and will help you explain to prospective attorneys the merits of your case.
Neither the National Whistleblower Center nor the Whistleblower Legal Defense and Education Fund can provide legal advice as part of the LAP intake process. Always remember an attorney does NOT represent you until and unless you have a signed written representation agreement with an attorney.
Fill out the secure intake form.
Notice: The information on this Web site is provided for informational and/or educational purposes only and should not be construed as legal advice. Read the full disclaimer here. The Fund is managed independently from NWC. NWC has no responsibility for actions taken by the Fund.
Whistleblowers looking for legal assistance should review the resources here.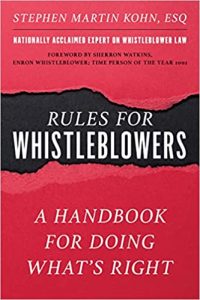 Special Offer 
Donate $50 or more to reserve a copy of Rules For Whistleblowers
Kohn's thirty-seven rules highlight the "traps" facing whistleblowers today and address how to file anonymous cases and qualify for multi-million-dollar rewards. Kohn carefully explains complex rules and laws governing whistleblowing, including the Dodd-Frank, IRS, and False Claims Acts, and detailed strategies for fighting retaliation. He also covers controversial issues such as taping, removing documents, and ignoring nondisclosure agreements.
This offer is only valid for U.S. donations.