Anonimato, Anti-represalias, Premios: Derechos de los Denunciantes para la Cooperación Transnacional en el Hemisferio Occidental
El National Whistleblower Center (NWC) ofrece seminarios a las Organizaciones de la Sociedad Civil y a los Gobiernos en todo el continente americano, enfocados ayudar a los funcionarios a comprender el valor de la denuncia de irregularidades y los principios de mejores prácticas para denunciantes con miras al desarrollo de capacidades.
Esta serie de seminarios crea un espacio para el aprendizaje y la colaboración en torno a la inclusión de protecciones a denunciantes en la democracia, el buen gobierno, el estado de derecho, la sostenibilidad y la creación de resiliencia, así como la sensibilización sobre la disponibilidad de leyes y programas de EE.UU. que combaten la corrupción financiera y los delitos ambientales.
El National Whistleblower Center participó activamente en los subgrupos de trabajo conducentes al Foro de la Sociedad Civil de la IX Cumbre, y en el Diálogo entre la Sociedad Civil, Actores Sociales y Representantes de Alto Nivel del Gobierno en Los Ángeles, así como presentó este proyecto como parte de la Feria de Iniciativas de Organizaciones de la Sociedad Civil de la Cumbre.
Los temas de los seminarios incluyen:
Leyes de Denunciantes en los EE.UU. y cómo se pueden usar en todo el mundo.
Mejores Prácticas para Protección de Denunciantes.
Comprender la Denuncia en el Contexto de los Derechos Humanos.
El NWC ha participado o ha sido citado en:
Reto Tecnológico sobre Delitos Contra la Vida Silvestre (Ganador del Gran Premio).
Comentario en la Coalición de la Convención de las Naciones Unidas contra la Corrupción (UNCAC), al Informe del Relator Especial sobre los Derechos Humanos y el Medio Ambiente de 2022 y el Informe del Relator Especial sobre la Situación de los Defensores de los Derechos Humanos de 2022 de la Organización de las Naciones Unidas.
Adopción de compromisos para la protección de denunciantes ambientales del Congreso de la IUCN.
El NWC aporta experiencia legal única sobre cómo los denunciantes pueden ser utilizados con éxito por cualquier país para avanzar en sus esfuerzos de cumplimiento, y para salvaguardar el gasto gubernamental, la gobernabilidad democrática y el desarrollo sostenible, y está entusiasmado por trabajar contigo en la implementación de programas exitosos de denuncia que nos protejan a todos. Puedes comunicarte con el NWC en info@whistleblowers.org para programar un seminario sobre Anonimato, Anti-represalias y Premios.
Anonymity, Anti-Retaliation, Awards: Whistleblower Rights for Transnational Cooperation in the Western Hemisphere
NWC offers seminars to Civil Society organizations and government throughout the America's to help officials to understand the value of whistleblowing and the tenets of whistleblower best practices with a view to capacity development.
This series of seminars creates a venue for learning and collaboration around including whistleblower protections into democracy, good governance and rule of law, sustainability, and resiliency building and raising awareness about the availability of international U.S. laws and programs combatting financial corruption and environmental crimes.
National Whistleblower Center actively participated in the sub-working groups leading to the IX Summit Civil Society Forum and the Dialogue between Civil Society, Social Actors and High-Level Government Representatives in Los Angeles and presenting and presents this project as part the Summit's CSO Initiative Fair.
Seminar topics include:
US Whistleblower Laws, and how they can be used worldwide.
Best Practices for Whistleblower Protections
Understanding Whistleblowing in a Human Rights Context
NWC has participated or been cited in:
Wildlife Crime Tech Challenge (Grand Prize Winner)
United Nations Convention against Corruption (UNCAC) Coalition comment to the United Nations Special Rapporteur on Human Rights and the Environment 2022 report
UN Special Rapporteur on the situation of human rights defenders 2022 report
IUCN Congress adoption of commitments to Environmental Whistleblower Protections
Other Resources:
NWC brings unique legal expertise on how whistleblowers can be successfully utilized by any country to advance their enforcement efforts and safeguard government spending and democratic governance and sustainable development and is eager to work with you to implement successful whistleblower programs that protect us all. You can reach NWC at info@whistleblowers.org to set up an Anonymity, Anti-Retaliation, Awards seminar.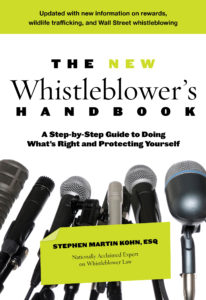 Know Your Rights! Read The New Whistleblower's Handbook
It is absolutely essential for whistleblowers to know their rights. The New Whistleblower's Handbook is the first-ever guide to whistleblowing, by the nation's leading whistleblower attorney. The Handbook is an easy to read step-by-step guide to the essential tools for successfully blowing the whistle, qualifying for financial rewards, and protecting yourself. What's inside the handbook?
Donate Today
National Whistleblower Center (NWC) is the leading non-profit dedicated to protecting and rewarding whistleblowers around the world. We assist whistleblowers in finding legal aid, advocate for stronger whistleblower protection laws, and educate the public about whistleblowers' critical role in protecting democracy and the rule of law. NWC's work centers on developing innovative approaches and strong partnerships for supporting whistleblowers around the world and empowering them to provide essential information to help fight corruption, protect our environment, and advance human rights. NWC is deeply committed to thriving transnational anti-corruption efforts and leveraging whistleblower protections to build a more sustainable, resilient, and equitable future throughout the Americas.
Dona Hoy
National Whistleblower Center (NWC) es la principal organización sin fines de lucro dedicada a proteger y recompensar a los denunciantes en todo el mundo. Ayudamos a los denunciantes a encontrar asistencia legal, abogamos por leyes de protección de denunciantes más fuertes y educamos al público sobre el papel fundamental de los denunciantes en la protección de la democracia y el estado de derecho. El trabajo del NWC se concentra en el desarrollo de enfoques innovadores y asociaciones sólidas para apoyar a los denunciantes de todo el mundo, así como empoderarlos para que brinden información esencial para ayudar a combatir la corrupción, proteger nuestro medio ambiente y promover los derechos humanos. El NWC está profundamente comprometido con los exitosos esfuerzos anticorrupción transnacionales y el aprovechamiento de las protecciones de los denunciantes para construir un futuro más sostenible, resiliente y equitativo en todo el continente americano.
¿Has sufrido represalias por denunciar despilfarro, fraude u otras actividades ilegales? Obtén asistencia legal. Conoce más sobre nuestro Programa de Asistencia Legal aquí.