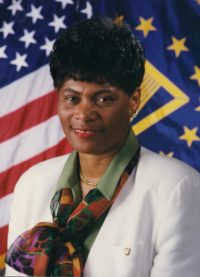 Bunnatine Greenhouse
Bunnatine Greenhouse stood alone in opposing the approval of a highly improper multi-billion dollar no-bid contract to Halliburton for the repair of Iraqi oil fields. In retaliation for her courage she was removed from her position as the highest-ranking civilian contracting official at the Army Corps of Engineers.
After a prolonged and highly contentious legal battle, her attorneys forced the Army Corps to fully settle the case, agreeing to provide Ms. Greenhouse full compensation for all of the damages she suffered and agreeing to pay her attorney's fees and costs. Ms. Greenhouse's disclosures resulted in major reforms prohibiting no-bid contracts.
There has been extensive news coverage of the case by Democracy Now, Washington Post, NBC Nightly News, Time, CBS News, MSNBC, 60 Minutes,  New York Times, and USA Today. Ms. Greenhouse was a guest with her attorneys on a C-SPAN Close-Up Show discussing her whistleblowing and the importance of protecting courageous employees who risk their jobs serving the public interest. She testified about her experience as a whistleblower before the Senate Democratic Policy Committee, stressing the importance of protecting whistleblowers, and ultimately protecting the American people against fraud.
Read more about her story in the National Whistleblower Center announcement of the government settlement of her case, which can be accessed here.
Additional Links: