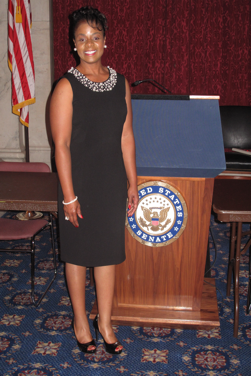 Dr. Tommie "Toni" Savage
Although Dr. Savage's performance appraisals over her 20-year career ranked her as an extraordinary performer whose "Integrity" was "beyond reproach," and after she was recently promoted and awarded the "Director of Contracting Professional Award for Integrity," her career came crashing down when she blew the whistle on the gross and obvious Ranges Program fraud that was costing tax payers millions of dollars.
Ultimately HNC protected the offender, even after an internal audit and two separate Army internal investigations (AR 15-6 reports) substantiated all of Dr. Savage's allegations, asserted that she should be commended for doing the right thing, and found that the offender made false statements during the course of the investigation during which documentation had mysteriously disappeared from government files. HNC's response to its auditors' findings confounded logic. Retaliation fell quickly as Dr. Savage was removed from her position and subjected to a campaign of psychological devastation—leading to her removal from government service—while the offender was allowed to continue to engage in wrongdoing with impunity. The National Whistleblower Center supported Dr. Savage in her fight for justice. Over the course of her whistleblower retaliation case, the missing internal reports miraculously resurfaced, and now the harm she suffered is currently being addressed before The Merit Systems Protection Board (MSPB).
You can read the MSPB remand decision here
You can read the AR 15-6 report here