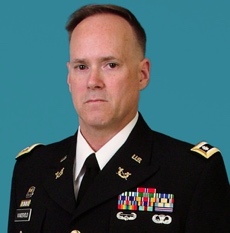 Lieutenant Colonel Darrel Vandeveld
After his resignation, Lt. Col. Vandeveld was ordered by a commission judge to testify as a defense witness in Jawad's case.  His testimony exposed many of the serious violations occurring at Guantanamo, including abusive interrogations, evidence withheld from the defense, judicial incompetence, and confessions coerced through torture.  Immediately following his testimony, Lt. Col. Vandeveld was given his first negative performance review.
When Lt. Col. Vandeveld was subpoenaed to testify before Congress regarding the Military Commissions Act of 2009, he stated, "The military commission system is broken beyond repair. Even good faith efforts at revision…leave in place provisions that are illegal and unconstitutional. "Instead of confronting the hard truths of his testimony, the Army chose to retaliate against Lt. Col. Vandeveld for his courageous stand to uphold his oath to protect the Constitution and resumed the commissions at Guantanamo with minimal revisions.