Celebrate National Whistleblower Day 2023
On behalf of the National Whistleblower Center, we would like to invite you to follow our LIVE 10th Anniversary celebration of National Whistleblower Day on Thursday, July 27 from 10 am to 3:00 PM EDT in Washington D.C.! Just use #NWD2023.
National Whistleblower Day is an annual celebration commemorating the contributions of whistleblowers around the world who have bravely stepped forward to expose waste, fraud, and abuse.
Space is Full for our Live Event, and donations are much appreciated! This event is LIVE! Recordings may be provided after, but not on the day of the event. You can follow the live event using #NWD2023 for live social media coverage!
Our Schedule is Live!
National Whistleblower Day will be hosted on Capitol Hill and at the National Whistleblower Center office in Georgetown on Thursday, July 27th.
ATTENTION: Only those who are CONFIRMED to attend will be admitted to the Senate Visitor Center event on July 27, the guest list is now closed. Please RSVP for NWC's AFTER PARTY if you would like to celebrate with us in Georgetown!
10 AM:  Doors open. 
10:30 AM: Opening Remarks:
Siri Nelson, Executive Director, National Whistleblower Center. 
Jane Turner FBI Whistleblower, Whistleblower Network News Columnist, and Podcaster.
Stephen Kohn, NWC Board Chair, tells the "Story of Whistleblower Day". 
11 AM: Speech from Senator Charles "Chuck"  Grassley. 
11:30 AM: Speech from Rhoan Jones from the Office of Special Counsel, Investigations and Prosecution Division.
12 PM: Panel "Life after Whistleblowing Panel", FBI Whistleblower, Jane Turner. 
1 PM: Panel "What's Next? Whistleblowers on needed improvements." Moderated by Enron Whistleblower, Sherron Watkins. 
Moderator: Sherron Watkins, Enron Whistleblower 

 

Panelist: Erika Cheung, Theranos Whistleblower

 

Panelist: Babak Babakinejad, MIT Media Lab Whistleblower

 

Panelist: Jennifer Griffith, Social Security Whistleblower

 

Panelist: Sarah Carver, Social Security Whistleblower
2 PM: Recognizing Whistleblowers 
Marlon Ray, D.C. School System Whistleblower Presents D.C. Proclamation.
Open floor: Whistleblowers in the room will have 2 min to be recognized within the allowed time.

 

Closing Remarks at 2:45 Siri Nelson, Stephen Kohn, and Whistleblower Jane Turner.

 
3 PM: Event Ends. 
Can't make it to our event on Capitol Hill? Join NWC for our National Whistleblower Day After Party!
National Whistleblower Day History
The U.S. Continental Congress passed America's first whistleblower law during the height of the American Revolution on July 30th, 1778. To honor this history, the first Congressional celebration of National Whistleblower Day took place in the U.S. Senate Kennedy Caucus Room on July 30th, 2015. It was a huge success! Since then, the National Whistleblower Center has continued its whistleblower celebration by holding an annual event with this year's event taking place as an interactive virtual conference.
"That it is the duty of all persons in the service of the United States, as well as all other inhabitants thereof, to give the earliest information of wrongdoing to Congress or other proper authority of any misconduct, frauds or misdemeanors committed by any officers or persons in the service of these states, which may come to their knowledge." – First U.S. whistleblower law, unanimously passed on July 30, 1778 by the Continental Congress
Learn More
The History of America's First Whistleblower Law
As told by the former Executive Director of the National Whistleblower Center, Stephen M. Kohn.
More Resources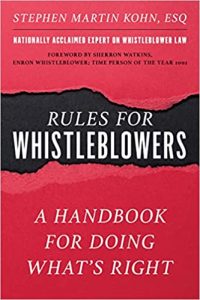 Rules for Whistleblowers
The Ultimate Guide to Blowing the Whistle and Getting Rewarded
Kohn's thirty-five rules highlight the "traps" facing whistleblowers today and address how to file anonymous cases and qualify for multi-million-dollar rewards. Kohn carefully explains complex rules governing laws including the Dodd-Frank, IRS, and False Claims Acts, as well as detailed strategies for fighting retaliation. He also covers controversial issues such as taping, removing documents, and ignoring nondisclosure agreements.