Celebrate National Whistleblower Day 2022
On behalf of the National Whistleblower Center, we would like to invite you to attend our virtual celebration of National Whistleblower Day on Thursday, July 28 through Saturday July 30 from 2:00 PM – 5:00 PM EDT each day! National Whistleblower Day is an annual celebration commemorating the contributions of whistleblowers around the world who have bravely stepped forward to expose waste, fraud, and abuse.
---
DAY 1
Legislative
Thursday, July 28
2 PM: Opening Remarks with Siri Nelson and Stephen Kohn
Learn about Whistleblowers and National Whistleblower Day.
2:30 PM: Fireside Chat with House Office of the Whistleblower Ombuds
Speaker: Shanna Devine
Leadership from the Office of the Whistleblower Ombuds, an independent and nonpartisan House support office, will discuss the ways in which Congress partners with whistleblowers to advance its oversight responsibilities. Through a fireside chat, the Office will discuss best practices and its public resources that can foster safe and effective working relationships between whistleblowers and those in government who should be benefiting from their knowledge.
3:30 PM: Panel featuring North American Securities Administrators Association
Speaker: Kristen Hutchens
Learn about North American Securities Administrators Association whistleblower model act and efforts of state securities regulators to encourage the passage of legislation based on NASAA's model act.
5 PM: Keynote
Speaker: TBD
RSVP to learn more, previous keynote speakers have included Senator Charles Grassley, Representative Jackie Speier, and SEC Chair Gary Gensler.
---
DAY 2
International Whistleblowers and Whistleblower Advocates
Friday, July 29
2 PM: Opening Remarks
RSVP to learn more.
2:30 PM: Panel of Non-US Legislators and Whistleblower Advocates
Speaker: TBD
Whistleblower advocates from around the world will engage in a rousing discussion of whistleblower rights in their region and needed changes today.
3:30 PM: International Whistleblower Experiences
Speaker: Johannes Stefansson
Whistleblowers from around the world will chat with whistleblower Johannes Stefansson, who is from Iceland and blew the whistle in Namibia. The conversation will cover little know nuances of their experiences as whistleblowers outside of the United States.
5 PM: Keynotes
Speakers: Siri Nelson, Alfred Brownell
Join Siri Nelson and Alfred Brownell for an interactive discussion about environmental whistleblowers and environmental defenders around the world. Alfred Brownell is a professor at Yale Law Scchool and an environmental whistleblower and defender.
---
DAY 3
U.S. Advocates and Whistleblower Recognition
Saturday, July 30
2 PM: Opening Remarks with Siri Nelson and Jane Turner
Speaker: Stephen Kohn
Tune in for our annual traditional of telling the story of our nations brave first whistleblowers and the important actions taken by the Congressional Congress to safeguard the integrity of democracy in the United States.
2:30 PM: Life After Whistleblowing
Speaker: Jane Tuner
Influential U.S. whistleblowers will join Jane Turner in an in depth discussion about the impacts whistleblowing has had on their lives and families, how they have moved forward after facing retaliation, and what comes next.
3:30 PM: Early Career Whistleblower Advocates, featuring Matthew Beddingfield
Speakers: Matthew Beddingfield, ZMF, David Lieberman, Whistleblower Law Collective, and Kayla Svihovec, Kohn, Kohn, and Colapinto, LLP
Early Career Whistleblower Attorneys join together to discuss their role in whistleblower rights and protections and best practices learned from mentors who, together with industry changing whistleblowers, helped create the whistleblower laws we use today. Moderated by Matthew Beddingfield of ZMF.
4:30 PM: Reading of Whistleblower Names
Speakers: Siri Nelson, Stephen Kohn, Jane Turner
Over 100 whistleblowers have registered to be recognized this year, we will read their names to commemorate and celebrate their whistleblowing.
5 PM: Keynotes
Speaker: Dr. Allison Gill
Federal Whistleblower Dr. Allison Gill tells the story of hew whistleblowing, and what came next.
---
Space is limited, so reserve your spot today! Registration is absolutely free and paid for by sponsors
National Whistleblower Day History
The U.S. Continental Congress passed America's first whistleblower law during the height of the American Revolution on July 30th, 1778. To honor this history, the first Congressional celebration of National Whistleblower Day took place in the U.S. Senate Kennedy Caucus Room on July 30th, 2015. It was a huge success! Since then, the National Whistleblower Center has continued its whistleblower celebration by holding an annual event with this year's event taking place as an interactive virtual conference.
"That it is the duty of all persons in the service of the United States, as well as all other inhabitants thereof, to give the earliest information of wrongdoing to Congress or other proper authority of any misconduct, frauds or misdemeanors committed by any officers or persons in the service of these states, which may come to their knowledge." – First U.S. whistleblower law, unanimously passed on July 30, 1778 by the Continental Congress
Learn More
The History of America's First Whistleblower Law
As told by the former Executive Director of the National Whistleblower Center, Stephen M. Kohn.
More Resources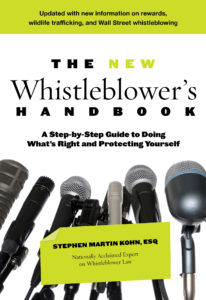 Know Your Rights!
Read The New Whistleblower Handbook
It is absolutely essential for whistleblowers to know their rights. The New Whistleblower's Handbook is the first-ever guide to whistleblowing, by the nation's leading whistleblower attorney. The Handbook is an easy to read step-by-step guide to the essential tools for successfully blowing the whistle, qualifying for financial rewards, and protecting yourself. What's inside the handbook?