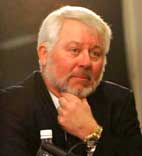 Jeffrey Wigand
Dr. Jeffrey Wigand exposed safety problems related to the tobacco industry. In 1995, Dr. Wigand achieved national prominence when he became the tobacco industry's highest ranking former executive to address public health and smoking issues.
He blew the whistle on the industry's disregard for the public's health and safety during an interview with 60 MINUTES, as well as amid a deposition he was compelled to give in an action against the tobacco companies.
A former vice president of Brown and Williamson, Dr. Wigand blew the whistle on the tobacco industry's manipulation of nicotine. Brown & Williamson sued Dr. Wigand because of his public disclosures about the industry's efforts to minimize the health and safety issue of tobacco use. This lawsuit was dismissed as a condition of the June 20, 1997 historic $368 billion settlement between the Attorneys General of 40 States and the tobacco industry. He is credited with being the key witness in successful tobacco reform law suits. Dr. Wigand's case was portrayed in the film, The Insider (1999).