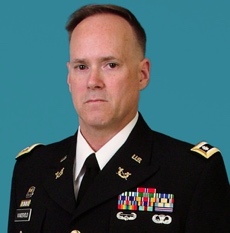 Lieutenant Colonel Darrel Vandeveld
Vandeveld is Lieutenant Colonel in the US Army Reserve Judge Advocate General's Corps.  Since the September 2001 attacks, he has served in Bosnia, Africa, Iraq and Afghanistan, and has been awarded the Bronze Star Medal, the Iraqi Campaign Medal, the Joint Service Commendation Medal, and two Joint Meritorious Unit Awards. From May 2007 to September 2007 he served active duty as a prosecutor at the Office of Military Commissions in Guantanamo Bay, Cuba. Lt. Col. Vandeveld resigned from his post at Guantanamo after concluding that he could not ethically or legally prosecute the case of detainee Mohammad Jawad.
After his resignation, Lt. Col. Vandeveld was ordered by a commission judge to testify as a defense witness in Jawad's case.  His testimony exposed many of the serious violations occurring at Guantanamo, including abusive interrogations, evidence withheld from the defense, judicial incompetence, and confessions coerced through torture.  Immediately following his testimony, Lt. Col. Vandeveld was given his first negative performance review.
When Lt. Col. Vandeveld was subpoenaed to testify before Congress regarding the Military Commissions Act of 2009, he stated, "The military commission system is broken beyond repair. Even good faith efforts at revision…leave in place provisions that are illegal and unconstitutional. "Instead of confronting the hard truths of his testimony, the Army chose to retaliate against Lt. Col. Vandeveld for his courageous stand to uphold his oath to protect the Constitution and resumed the commissions at Guantanamo with minimal revisions.