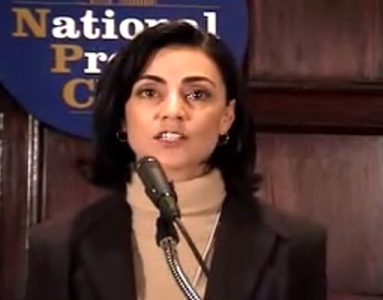 Sibel Edmonds
Sibel Edmonds is the founder and president of the National Security Whistleblowers Coalition (NSWBC), a nonprofit organization dedicated to aiding national security whistleblowers. She appears frequently on national radio and TV as a commentator on matters related to whistleblowers, national security, and excessive secrecy & classification.
She has been featured on CBS 60 Minutes, CNN, MSNBC, and NPR, and in the New York Times, Washington Post, Vanity Fair, Glamour, and others. Her book, 'Shooting the Messenger' co-authored with Professor William Weaver, is forthcoming from Kansas University Press.
PEN American Center awarded Ms. Edmonds the 2006 PEN/Newman's Own First Amendment Award for her "commitment to preserving the free flow of information in the United States in a time of growing international isolation and increasing government secrecy." She is also the recipient of the 2004 Sam Adams Foundation Award.
Ms. Edmonds worked as a language specialist for the FBI's Washington Field Office. During her work with the bureau, she discovered and reported serious acts of security breaches, cover-ups, and intentional blocking of intelligence that had national security implications. After she had reported these acts to FBI management, she was retaliated against and ultimately fired in March 2002. Since that time, court proceedings on her issues have been blocked by the assertion of "State Secrets Privilege" by Attorney General Ashcroft, and the Congress of the United States has been gagged and prevented from any discussion of her case through retroactive re-classification issued by the Department of Justice.
Ms. Edmonds began her career in 1993 as Project Director for the Rostropovich Foundation, a non-profit humanitarian organization providing medical and food aid to children of the former Soviet Union. She relocated to St. Petersburg, Russia and managed correspondence, shipments, inventory and security precautions in the largest children's hospital in St. Petersburg. Later, she worked as the Executive Director & Co-Founder of Edmonds Industries, a Consulting and Holding Company, investing in international business and residential real estate development. Ms. Edmonds also worked as a volunteer for the Alexandria CASA program (Court Appointed Special Advocate) for abused children, and as an instructor for the Alexandria Office on Women's Domestic Violence Program.
Ms. Edmonds has an MA in Public Policy and International Commerce from George Mason University, a BA in Criminal Justice and Psychology from George Washington University, and AA degree in Science from NVCC. She is certified as a Court Appointed Special Advocate and as an instructor for the Women's Domestic Violence Program. She is fluent in Turkish, Farsi and Azerbaijani.
"Sibel Edmonds' Kafkaesque ordeal underscores how easily government powers, especially powers wielded in the name of national security, can be abused to keep the public in the dark about official failings. PEN is deeply troubled by Sibel Edmonds' story and by the growing number of reports of efforts by the administration to silence government employees."–Larry Siems, PEN American Center, April 2006
"Sibel Edmonds would not let an intimidating FBI shut her mouth, and as a result, suffered grievous consequences, but she has persevered and we are better off for her sacrifices."– Paul Newman, April 18, 2006
"Sibel Edmonds is certainly one of my heroes and I'm glad to have heard of her effort. I admire what she is doing very much. I think she's serving the country very well." –Daniel Ellsberg, Democracy Now, April 29, 2004.