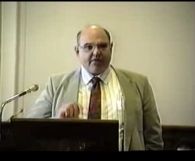 William Marcus
Dr. William Marcus, a Senior Science Advisor at the Environmental Protection Agency (EPA), lost his position after he documented that the Office of Drinking Water-approved and EPA-backed practice of adding fluoride to the nation's drinking water supplies could lead to an increase in cancer rates in 1990.
Attorneys working with NWC conducted extensive discovery into the case and learned of improper communications between chemical company attorneys and the EPA managers, including direct documentation that Dr. Marcus' removal was purposefully orchestrated. After EPA attempts to destroy evidence to obstruct Dr. Marcus' documentation of collusion and the EPA's subsequent refusal to settle the case, Dr. Marcus prevailed on every count, being reinstated with full pay alongside compensatory damage awards and full attorney fees and costs.
Following reinstatement, the EPA continued to harass Dr. Marcus. In a new case regarding a hostile work environment, Dr. Marcus was awarded additional damages and affirmative relief. Dr. Marcus' cases set national precedent, as it was the first time the Clean Air Act and Safe Drinking Water Act's whistleblower provisions were used to protect a federal employee.