Introducing the IRS Whistleblower Program:
The Internal Revenue Act permits individuals to provide original information to the Internal Revenue Service ("IRS") about violation of the tax laws or the underpayment of taxes, exposing criminal violations. The IRS whistleblower reward law is codified at Title 26 U.S.C. § 7623.
The IRS whistleblower provisions give monetary rewards to individuals whose contribution leads to sanctions against the tax law violator for abuse of tax laws or underpayment of taxes. If the whistleblower's information results in a fine or sanction against the tax law violator, the whistleblower receives a percentage of the bounty. No intention to commit actual tax fraud needs to be proven to qualify for a reward; the law covers the underpayment of taxes  Additionally, under the "related action" provisions of the law, rewards may also be paid based on criminal penalties, civil forfeitures and/or violations of IRS reporting requirements. Thus, it may be the best weapon to combat against tax fraud and other banking-related corruption.
As explained by leading whistleblower law experts at Kohn, Kohn & Colapinto, LLP:
"Whistleblowers that provide information about tax fraud or tax underpayments to the IRS can receive rewards. The whistleblower must provide information that is specific and credible. If the IRS uses information provided by a whistleblower, it can award that person up to 30 percent of the tax, penalties and interest it collects."

"Federal law provides for two types of awards. Internal Revenue Code (IRC) Section 7623(b) provides for awards of 15 to 30 percent of the amount collected if the taxes, penalties, interest and other amounts in dispute exceed $2 million, and if the case deals with an individual, his or her annual gross income must be more than $200,000. IRC Section 7623(a) provides for a maximum award of 15% for those cases that do not meet the dollar thresholds of $2 million in dispute or cases involving individual taxpayers with gross income of less than $200,000."
The Internal Revenue Service ("IRS") Whistleblower Reward Program has demonstrated considerable success over the past decade.
Since 2007, the Whistleblower Office made awards in the amount of $811,382,263 based on the collection of $5,051,188,583. – 2018 Annual Report to Congress
The IRS Whistleblower Office, established in 2006, serves as an avenue for the protection of whistleblower rights and accountability in the IRS whistleblower program
What is the IRS Whistleblower Office?
The IRS has an official Whistleblower Office. The IRS Whistleblower Office is authorized to make the final award decisions on behalf of the IRS and Department of Treasury. IRS Office of the Whistleblower was created to provide a better framework for increasing whistleblower submissions. The IRS whistleblower laws can be considered best practices in this arena.
The Whistleblower Office states that it,
"[is] responsible for assessing and analyzing incoming tips. After determining their degree of credibility, the case will be assigned to the appropriate IRS office for further investigation."

"accepts tax whistleblower cases and has authority to issue final reward determinations in civil, criminal, or administrative tax fraud cases."

Additionally, "the IRS Whistleblower Office [plays a]…vital role in evaluating its award program by providing a mandatory annual assessment of its program…. Whistleblowers may receive an award of between 15 and 30 percent of total proceeds that the IRS collects."
To visit the IRS Whistleblower Office online, click here.
Understanding the IRS Whistleblower Provisions:
A "relator" is another word for a whistleblower. It originated in the False Claims Act whistleblower reward law signed by President Abraham Lincoln on March 2, 1863, during the Civil War. The term "relator" is used in the statute to identify the original source of the frauds against the government. The term "whistleblower" was not in use in 1863. Consequently, in modern whistleblower reward laws, the term "relator" is often used by the Courts and parties to signify a whistleblower.
The IRS whistleblower reward law is divided into two sections. The first section is 26 U.S.C. § 7623(a), and it gives the IRS the discretion to pay whistleblower awards. This section is based on an older provision in the law originally enacted in the 1800s. Awards paid under this provision are strictly within the discretion of the IRS and there is no appeal of a denial.
In 2006, the creation of the Tax Relief and Health Care Act resulted in significant changes in the IRS award program for whistleblowers. The IRS tax whistleblower law was amended to include a Section (b). See 26 U.S.C. § 7623(b). This section of the law created a mandatory reward law. If a whistleblower qualified for a reward under this provision, the IRS is required to pay a reward of not less than 15% and not more than 30% of any collected proceeds obtained by the IRS based on original information provided by the whistleblower.
Therefore, with the new law, awards were no longer determined only by discretion. If a whistleblower meets the qualifications under this provision and the original information provided by the whistleblower results in administrative or judicial action, IRS must reward at least 15% and no higher than 30% of any collected proceeds obtained by the IRS.
This mandatory element of the whistleblower award provision is a core reason for the success of the whistleblower program.
Section (b) of amended IRS tax whistleblower law does not cover all award claims. It only covers claims filed in cases in which the "proceeds in dispute exceed $2,000,000." Additionally, if the claim is filed against an individual, that individual's gross income must also exceed $200,000. Claims that do not meet the above requirements are covered under IRC § 7623(a) in which the awards are determined by discretion of the IRS.
In other words, small tax cases are covered under section (a) of the law, and any award is discretionary. But large tax cases are covered under section (b) of the law, and payment of awards to qualified persons is mandatory.
"If the Secretary of Treasury/IRS uses the information provided by the whistleblower in a successful judicial or administrative action (including a settlement), the IRS whistleblower "shall" "receive as an award at least 15 percent but not more then 30 percent of the proceeds collected as a result of the action (including related actions)"

IRC § 7623(a) 25.2.2.5.4 (01-12-2018)
To access the language on IRS whistleblower award provision, click here.
In 2016, a U.S. Tax Court decision granted rewards to whistleblowers on a broader definition of collected proceeds, to include criminal fines and penalties. Therefore, while the implementation of the IRS whistleblower law has expanded as the agency understands the crucial nature of cooperation with whistleblowers, courts have also expanded the rights of whistleblowers as to their rewards. Read the court decision here.
Another Successful Year: 2018
The IRS' Whistleblower Program 2018 Annual Report to Congress demonstrates the success of its whistleblower provisions.
That year, proceeds collected in total were $1,441,255,859.
"FY 2018 was record setting in the proceeds collected and amount of awards paid, and the Whistleblower Office will continue to focus IRS resources on claims that lead to significant returns to the government." (2018)

"In 2018, the Whistleblower Office made 217 awards to whistleblowers totaling $312,207,590 (before sequestration)."

"Award dollars to whistleblowers as a percentage of proceeds collected increased to 21.7% in FY 2018, up from 17.8% in FY 2017."

"Whistleblower claim numbers assigned in FY 2018 increased by 2.9% from those submitted in FY 2017, and closures decreased by 11.2%."
Whistleblowers Tips Are Crucial Crime-Fighting Tools:
Between 2003 and 2018, over $5 billion has been recovered by the IRS, while nearly $900 million has been awarded to whistleblowers.
This data demonstrates that whistleblower tips and reward programs are an incredibly powerful incentive for whistleblowers to speak up, and that an enormous amount of funds are brought in to U.S. government coffers as a direct result of whistleblowers' bravery.
| | | | | |
| --- | --- | --- | --- | --- |
| Year | Number of Awards to Whistleblowers | Total Amount of Awards | Amount Collected by IRS | Awards as Percentage of Amount Collected |
| FY 2003 | 190 | $4,057,476 | $61,556,175 | 6.60% |
| FY 2004 | 259 | $4,585,143 | $74,130,794 | 6.20% |
| FY 2005 | 169 | $7,602,685 | $93,677,606 | 8.10% |
| FY 2006 | 220 | $24,184,458 | $258,590,435 | 9.40% |
| FY 2007 | 227 | $13,600,205 | $181,784,287 | 7.40% |
| FY 2008 | 198 | $22,370,756 | $155,985,834 | 14.30% |
| FY 2009 | 110 | $5,851,608 | $206,032,872 | 2.80% |
| FY 2010 | 97 | $18,746,327 | $464,695,459 | 4.00% |
| FY 2011 | 97 | $8,008,430 | $48,047,500 | 16.70% |
| FY 2012 | 128 | $125,355,799 | $592,498,294 | 21.20% |
| FY 2013 | 133 | $54,054,587 | $343,674,315 | 15.70% |
| FY 2014 | 101 | $52,281,628 | $309,990,568 | 16.90% |
| FY 2015 | 99 | $103,486,677 | $501,317,481 | 20.60% |
| FY 2016 | 418 | $61,390,910 | $368,907,298 | 16.60% |
| FY 2017 | 242 | $33,979,873 | $190,583,750 | 17.80% |
| FY 2018 | 217 | $312,207,590 | $1,441,255,859 | 21.70% |
| Total | 2905 | $851,764,152 | $5,292,728,527 | 12.88% |
Whistleblower Tips Mean a Better Cost Benefit Ratio for the IRS:
In data in the Treasury Inspector General for Tax Administration (TIGTA)'s 2006 report on the IRS' Informant Rewards Program reveals just how beneficial whistleblowers are to the IRS' efforts to catch tax cheats.
i. Cost Benefit Ratio
The report notes that the IRS Restructuring and Reform Act of 1998 § 3804 instituted the use of the Internal Revenue Code § 7623. This led to significant improvements in the efficacy of the program.
| | | |
| --- | --- | --- |
| | Amount of IRS Incurred Costs | Amount IRS Receives From Rewards Program |
| Before 1998 | $0.10 | $1.00 |
| After 1999 | $0.04 | $1.00 |
The data demonstrates that the government brings in $1 dollar for every 4 cents spent by the IRS on this program. It is a 25-fold multiplier in terms of the cost expended in the program as compared to the benefits received through whistleblower tips and rewards. Therefore, the IRS whistleblower rewards program not only generates substantial funds for the IRS, it also has an incredibly good cost-benefit ratio.
ii. Effectiveness of IRS Efforts
The "No-Change Rate" refers to the rate of which IRS investigatory efforts result in no change to the taxpayer's rate, meaning that there was no tax violation. In other words, the investigation or audit was time and effort (and therefore cost) spent by the IRS investigating an honest taxpayer, and the government does not claw back any funds. A no-change rate could be said to be the rate of wasted effort.
| | | |
| --- | --- | --- |
| | No Change Returns Rate, 1996 – 1998 | No Change Returns Rate, 2003 – 2005 |
| Informants Program | 12% | 21% |
| DIF Selected | 17% | 28% |
The 2006 TIGTA report reveals that tax returns selected for investigation based on whistleblower tips results in a lower no-change rate (and therefore a higher rate of effectiveness) than the tax returns selected based on the IRS other selection programs, called the Discriminant Index Fund ("DIF").
In short, IRS investigations that start from whistleblower tips are consistently more successful in finding tax cheats and criminal tax violators than any other detection method. This data also demonstrates that whistleblower tips are high-quality and include information crucial to IRS efforts to enforce tax law against large tax violators.
Read TIGTA's full report here.
Why Whistleblowing Works:
Whistleblowers provide insider knowledge on illicit activities that are invisible to the public or law enforcement agencies. Agencies with whistleblower programs incentivize and normalize the process of reporting fraudulent actions, ensuring that law enforcement agents are able to effectively enforce laws passed by Congress.
The success of the IRS whistleblower reward program mirrors the success of other well-run whistleblower programs. Agencies such as the U.S. Securities and Exchange Commission ("SEC") have demonstrated its efficacy through decades of data. The SEC program has resulted in enormous amounts of illicit funds recovered by the U.S. government.
The Cycle of Accountability: 
Assets from the wrongdoer sponsor the enforcement and rewards for whistleblowers.
No general revenues are needed once the cycle is set in motion, although initial support is necessary in order to catalyze this cycle.
We believe that effective law enforcement and community empowerment can both be furthered by a marketplace in which attorneys are incentivized to take such whistleblower cases, and those with information are incentivized to become whistleblowers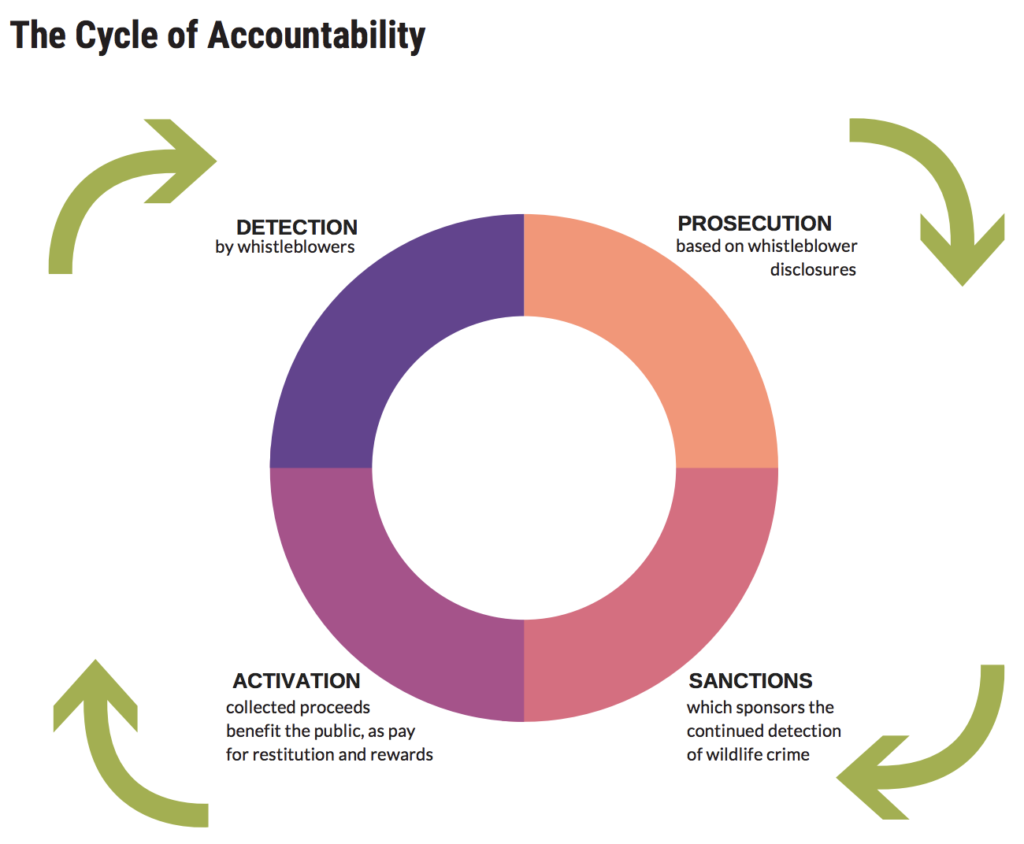 Academic Studies Demonstrate Whistleblower Tips are Crucial to Catching Fraud
A critical study on whistleblowing came from the University of Chicago's Booth School of Business. Their goal was to "identify the most effective mechanism for detecting corporate fraud." The study found that,
"A strong monetary incentive to blow the whistle does motivate people with information to come forward."

"Monetary incentives seem to work well, without the negative side effects often attributed to them."

"Employees clearly have the best access to information."
The University of Chicago's Booth School of Business' study debunked claims that the False Claims Act increases the filing frivolous litigation:
"[T]here is no evidence that having stronger monetary incentives to blow the whistle leads to more frivolous suits."
Alexander Dyck, Adair Morse & Luigi Zingales, Who Blows the Whistle on Corporate Fraud? University of Chicago, 2006. Accessed here.
International Application of IRS Whistleblower Program:
The IRS whistleblower program has a significant international application.
"Whistleblower disclosures have triggered over $16 billion in recoveries from illegal offshore banking. Whistleblower reward payments cover all criminal, civil, and administrative recoveries."

"The IRS' serious efforts to combat offshore tax evasion, which had long been a problem, began in 2008 with our efforts to address specific situations brought to our attention in part by whistleblowers." — John A. Koskinen, Commissioner of the IRS, in a speech to the U.S. Council for International Business-OECD International Tax.
Whistleblower Spotlight: Bradley Birkenfeld (UBS/Swiss Banking System)
"Mr. Birkenfeld was the first international banker to blow the whistle on illegal offshore accounts held in Switzerland by U.S. citizens. His disclosures have resulted in unprecedented recoveries for the U.S. taxpayers. The recoveries included $780 million dollars in civil fines and penalties paid by UBS Bank, and over $5 billion dollars in collections from U.S. taxpayers who had illegally held "undeclared" offshore accounts in Switzerland and other countries.
Ultimately, the Swiss government was forced to change its tax treaty with the U.S. in order to turn over the names of more than 4,900 American taxpayers who held illegal offshore accounts. Approximately $19.5 billion dollars was recovered for the U.S. taxpayers as a result of Birkenfeld's whistleblower disclosure. The UBS case helped send a message throughout the world that tax evasion schemes could and would be uncovered by the IRS with the help of whistleblowers, and that these frauds wound not go unpunished no matter where they were perpetrated. With the representation of Kohn, Kohn & Colapinto's whistleblower attorneys, Birkenfeld's whistleblower award for revealing the secrets of the Swiss banking system was $104 million, the largest whistleblower reward in history." Read more here.
Whistleblower Spotlight: Howard Wilkinson (Danske Bank/International Money Laundering)
"If you wanted to launder money all you need to do is find an obscure branch in a bank with a good name, and nobody is going to ask you any questions." – Howard Wilkinson
On October 23, 2018, the Wall Street Journal reported that a whistleblower, Howard Wilkinson, had revealed one of the world's biggest money-laundering scandals. More than $230 billions of illicit money had been transferred from Russia and its neighboring states through Danske Bank's tiny branch in Estonia. Although the bank had known about the "multibillion-dollar money-laundering pipeline" for years, it had refused to do anything until Mr. Wilkinson blew the whistle. Current estimates are that this illegal money laundering scheme was worth over $230 billion.
Wilkinson first noticed the signs when he accidentally came across a client record, registered as Lantana Trade LLP and stationed in the U.K. The records revealed that Lantana was worth zero in net assets, but had somehow moved $480 million through the Estonian branch in five months – about $1 million daily. Wilkinson was reassured by a bank compliance officer as a simple clerical error; yet he dug deeper, and reporting his findings to Danske Bank headquarters. When his whistleblower report was disregarded, Wilkinson tipped off the police.
Wilkinson's story proves that whistleblowers are indeed the number one tool in combating corruption. Without Wilkinson's knowledge, money laundering within Estonia could have continued for much longer. At the time, Basel AML index ranked Estonia as the second-best country in combating money laundering. Denmark ranked the world's most transparent country that year by the corruption watchdog Transparency International. However, whistleblowers like Wilkinson help reveal the true picture behind the façade.
Yet Wilkinson's journey is also one of the dangers of blowing the whistle. Although Wilkinson obtained representation and reported his knowledge to law enforcement confidentially, his identity was revealed by Danske Bank employees in Estonia in September 2018. This placed his livelihood, and the safety of himself and his family, severely at risk. Additionally, although Wilkinson and his attorney Stephen Kohn were able to testify before the European and Danish parliaments, non-disclosure agreements (NDAs) with Danske Bank as well as the lack of protections for whistleblowers in Europe such as Wilkinson continue to limit Wilkinson's ability to convey all of his knowledge to key stakeholders, including law enforcement, national governments and international regimes, and to the public.
It's time for the U.S. government, through its agencies with investigatory and prosecutorial capacity, the U.S. Congress, and the European governments take active steps to protect, reward, and honor Mr. Wilkinson for his bravery in blowing the whistle on this enormous fraud.
International Reporting Programs are Strengthened by Whistleblower Reward Laws:
Those who blow the whistle on fraud, corruption, and criminal behavior want to bring the truth to light. The U.S. Security and Exchange Commission's 2018 Whistleblower Program Annual Report to Congress notes the high rates of internal reporting by whistleblowers; an attempt by whistleblowers to fix the problem internally, not simply get their company in trouble. As noted by the Securities and Exchange Commission in its report to Congress,
"There is no requirement under the Whistleblower Rules that an individual be an employee or company insider to be eligible for an award. However, approximately 69% of the award recipients to date were current or former insiders of the entity about which they reported information of wrongdoing to the SEC. Of the award recipients who were current or former employees of a subject entity, approximately 83% raised their concerns internally to their supervisors, compliance personnel, or through internal reporting mechanisms, or understood that their supervisor or relevant compliance personnel knew of the violations, before reporting their information of wrongdoing to the Commission."

"Recognizing the important role that internal compliance programs play in helping the Commission prevent, detect, and stop securities law violations, there are multiple provisions in the Whistleblower Rules meant to support individuals who choose to report internally in the first instance, including a potential increase in award percentage"
Read full report here.
Yet whistleblowers must ensure that their anonymity and confidentiality, as well as their safety, is protected. Only with anonymity and confidentiality can whistleblowers avoid the common retaliatory tactics by employers and others who prefer to cover-up an issue, rather than fix it. Whistleblowers should consult with an attorney specializing in tax law and whistleblower law prior to making any decisions. Read more about advice for whistleblower who expose tax fraud by leading whistleblower experts law firm Kohn, Kohn & Colapinto here.
The Role of the National Whistleblower Center
The National Whistleblower Center has worked extensively on the IRS whistleblower program. NWC founders and leadership, including leading whistleblower attorneys from Stephen Kohn, Michael Kohn, and David Colapinto, have litigated IRS whistleblower cases. In addition to involvement with IRS cases directly, the National Whistleblower Center has filed an extensive brief urging the IRS to reward whistleblowers who exposed criminal tax frauds. (November 2012), and has submitted comments to the IRS on proposed IRS whistleblower rules, strongly opposing the criminal disqualification (February 2013).
To read the amicus brief to the IRS regarding rewards for whistleblower who expose criminal tax frauds, click here.
To read the NWC's comment on the proposed IRS whistleblower rules strongly opposing criminal disqualification, click here.
An Expert View: Stephen M. Kohn, Esq.
The efficiency of the work done by the IRS Whistleblower Office is key to its success, according to Stephen M. Kohn, one of the nation's top experts on litigating whistleblower reward law, a founding partner of whistleblower law firm Kohn, Kohn, & Colapinto, LLP, and the Board Chair of the National Whistleblower Center. In The New Whistleblower's Handbook, Kohn delves into additional policies the IRS should follow in order to maximize the influx of whistleblower tips related to tax fraud, and ensure the integrity and proficiency of the agency.
"As mandated in the Internal Revenue Manual, the IRS must aggressively protect the confidentiality of its whistleblowers. This includes…" (Kohn, 9).

"Personnel are required to treat the identity of the whistleblower and the whistleblower's information as highly confidential and to exercise the appropriate security precautions."
"The identity of the whistleblower must not be disclosed to any other Service officials or employees except on a 'need to know' basis in the performance of their official duties."
"To maintain maximum security, protect documents and screen displays which identify whistleblower information or the whistleblower. Keep all documents, screen displays, and forms secured. Keep all documents, screen displays, and forms secured. This information must be kept concealed from all employees in a locked file cabinet until it is forwarded to the responsible party."

Learn more about The New Whistleblower Handbook here.