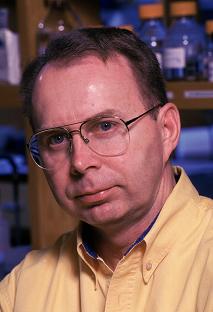 Dr. David Lewis
Dr. Lewis is an internationally recognized research microbiologist who discovered, at the University of Georgia (UGA) in the early 1990s, that the AIDS virus could be transmitted by certain types of dental equipment that dentists share between patients. His research, published in Lancet and Nature Medicine, led to the current heat-sterilization standard for dentistry worldwide.
As a senior-level (GS-15) research microbiologist for EPA's Office of Research & Development, Dr. Lewis used DNA-fingerprinting in the late 1990s to study the effects of global climate change on the breakdown of pesticides by bacteria. This research, which he published in Nature, was awarded EPA's Science Achievement Award. EPA officials who developed the Agency's sewage sludge regulations, however, moved to shut down his research when he began investigating illnesses and deaths linked to EPA programs promoting the agricultural use of processed sewage sludge. Nevertheless, his research in this area prompted the CDC to issue guidelines protecting workers handling processed sewage sludge.
At UGA, Dr. Lewis directs the Georgia-Oklahoma Center for Research on the Environment. There, he has published additional research articles concerning the public health and the environment, including a first-authored research article in Nature dealing with global climate change. He also organized and published a five-year prospective epidemiological study of hepatitis C cross-infection in Egypt.
Dr. Lewis was awarded the Lexington Leadership Award in 2000 and the Accuracy in Media Award. He organizes conferences and other events concerning the use of academic institutions by federal agencies to support government policies and quash independent scientific research. He also works with religious and community groups to foster acceptance of advancing scientific knowledge, promote religious tolerance, and discourage the use of the democratic process to empower religious movements.
Dr. Lewis' work has been covered in numerous news articles, editorials, and documentaries in a wide variety of professional, scientific and popular publications, and broadcasts including Science, Lancet, JAMA, The Scientist, National Geographic, Reader's Digest, Voice of America, Paul Harvey, Time, Newsweek, U.S. News & World Report, Forbes, NY Times, Wall Street Journal, Washington Post, London Times, NPR's All Things Considered, PBS Healthweek, PBS Technopolitics, CBS Evening News, ABC's Primetime Live, and BBC Panorama.
Research Misconduct: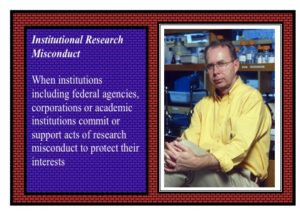 The Research Misconduct Project was created by Dr. Lewis in 2010 to deal with institutional research misconduct. Increasingly, important areas of scientific research are being manipulated by government agencies, large corporations and leading universities to promote and protect their own interests. Suppressing independent research that threatens their interests is key to their success.
Most scientists have never been targeted for retribution by government, industry or academia. Usually, such treatment is reserved for researchers who gain public attention and directly threaten important government policies or corporate profits. To stop researchers who publish unwanted results, institutions have resorted to using false allegations of research misconduct as a weapon of choice. Scientists who are targeted in this manner suffer lifelong consequences, and the chilling effect it has on other scientists is profound. Few, if any, scientists are willing to step into the firing line of government or big industry and risk being martyred.
Unfortunately, there is no place for researchers targeted by government and industry to hide. Scientific societies and scholarly journals will broadcast allegations of research misconduct throughout the scientific community and to the mass media. Government inquiries and academic proceedings designed to protect scientists from false allegations of research misconduct are useless when government agencies and academic institutions are the source of the allegations. And, protections afforded under the law do not even recognize that research misconduct exists at the institutional level.
Intentionally creating false allegations of research misconduct is itself a form of research misconduct. When academic institutions facilitate efforts by government and industry to skew data in their favor and silence researchers who publish unwanted results, that too is research misconduct. Such practices are increasingly undermining scientific progress. The objective of the Research Misconduct Project is to reverse this trend through public education and legislative action.
David L. Lewis, Ph.D., Director
Research Misconduct Project
RMP@whistleblowers.org