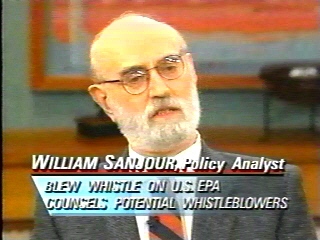 William Sanjour
For over 25 years, Mr. Sanjour was among the most effective EPA whistleblowers. In Sanjour v. EPA, he challenged rules restricting EPA workers right to speak to environmental community groups.  The court ordered a nationwide injunction upholding the First Amendment right of federal employees to criticize their agencies.
One of the lead whistleblowers in the Reagan Administration EPA scandals, Mr. Sanjour consistently advocated for public access to environmental information. Mr. Sanjour served in the EPA under four U.S. presidents.
Although controversial when it was decided the precedent setting Sanjour decision is now widely accepted and has been cited to favorably by judges such as Supreme Court Justice Samuel Alito.