Since 1988, we have advocated on behalf of whistleblowers.
The National Whistleblower Center (NWC), a non-profit, tax-exempt, non-partisan organization, is the leading whistleblower legal advocacy organization with an over 30-year history of protecting the right of individuals to report wrongdoing without fear of retaliation.
The National Whistleblower Legal Defense and Education Fund (NWLDEF) is a non-profit law firm that provides services to the NWC and whistleblowers from around the world.
Current Campaigns
What We Are Working On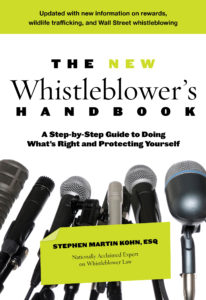 Donate $50 or more to get one free copy of The New Whistleblower's Handbook
Donate today