To predict the conditions that lead to a high risk of fraud, anti-fraud professionals and researchers frequently rely on a concept called the "fraud triangle," a model for understanding three conditions that lead to fraud: opportunity, motivation (which can take the form of incentives or pressure), and the ability to rationalize fraud. To identify industries that face a particularly high risk overall, researchers look for widespread presence of these three factors.
The coal industry accounts for almost 40% of electricity generation and more than 40% of energy-related carbon dioxide emissions according to a recent report from IEEFA. However, growing concern about coal's climate impacts and competition from renewable energy have put tremendous pressure on the industry to prove that it can remain a major player long-term. As coal-fired power plants close and major financiers and insurers back away, experts have begun to predict the 'beginning of the end' for the coal industry, suggesting that, while the industry remains powerful, it will face greater financial pressure moving forward.
When companies face financial pressure, the potential for fraudulent behavior is particularly acute. Fraud is a particular concern where finance, production, sales and operations managers face pressure to deliver positive results, and companies do not have adequate internal controls in place. As the coal industry faces growing regulatory and financial threats to the core of its business model, the pressure to meet targets and prove the industry's long-term viability may create the temptation for fraud.
Data from a recent EY survey states that, in the oil, gas and mining industry, 43% of employees would engage in fraud to meet financial targets and 35% would engage in fraud to help a business survive a downturn.  In the mining industry, the combination of financial pressure and middle-management bonus schemes has been linked with increased incentives for risk-taking and cutting corners on key safety issues.
The financial impacts of climate change have drawn particular attention to the potential for securities fraud, particularly as it relates to disclosures on the potential impacts of climate change and environmental regulations. Coal has the largest carbon footprint of any fossil fuel, and has historically been the "single biggest contributor" to climate change. The coal industry's assets are particularly at risk from the so-called carbon bubble, and research has highlighted a correlation between bubbles and higher instances of securities fraud.
A series of previous settlements highlight the potential for misleading disclosures. In 2007, under New York state's Martin Act, the New York Attorney General subpoenaed the executives of five energy companies with major coal assets, including Peabody Energy, at the time the world's largest coal company. The investigation into Peabody's disclosures found that the company had violated the Martin Act by misrepresenting the demand for coal to investors and failing to disclose to investors internal projections about potential liabilities related to climate change. Peabody, along with the four other companies, Xcel, Dominion, Dynegy, and AES Corporation, settled by entering into an agreement that required the company to provide more information regarding material risks related to climate change.
The industry's response to climate change and its support for climate change denial should also draw particular skepticism about its climate disclosures. The coal industry was one of the earliest groups to know about the science of climate change, with records suggesting the industry knew more than fifty years ago. Yet, rather than communicating the risks, the industry became one of the earliest funders of climate change denial campaigns designed to stymie regulations. It has continued to be a major funder today. As major American coal companies have gone bankrupt, the bankruptcy filings of several major coal companies have revealed that even as they struggled financially, they continued to quietly fund think tanks focused on climate change denial.
The industry also has a long history of deception on other environmental and health issues, such as water and air pollution, and safety issues for miners. Those patterns of deception continue today. To hide the impacts of black lung disease, the coal industry spent over a century misleading employees, regulators, and the public by funding misinformation campaigns, presenting misleading evidence, and developing complex schemes to evade disability claims. Amid a recent resurgence of the disease, research suggests that the industry continues to put workers at risk through fraudulent dust sample collection and that "fraud is likely part of the reason for the epidemic of black lung cases." In 2018, eight former Armstrong Energy employees were indicted for fraud after a group of coal industry whistleblowers revealed a practice of fraudulent dust sample collection.
Moreover, promises from the industry about the potential to reduce carbon emissions through the ambiguous concept of "clean coal" have proved not only misleading but also conducive to large-scale fraud. Promising viable clean coal technology, the CEO of Bixby Energy was able to raise $57 million from investors before it became known that the technology had never worked. In 2017, Southern Company was forced to abandon its flagship "clean coal" Kemper Project after unrealistic projections led to major construction delays and multi-billion dollars budget overruns. Subsequent media investigations revealed that Southern Company executives had known that the projections were unrealistic for years prior, and the Department of Justice initiated an investigation in 2019.
As the coal industry faces growing financial challenges that have only intensified due to the outbreak of coronavirus, the pressure to engage in fraud to meet financial targets or help a company survive a downturn will likely increase. A reliance on industry self-reporting for climate risks and even greater reliance on self-reporting for other environmental impacts suggests that there are opportunities for fraud to go undetected, and EY data further suggests that, when presented with the combination of financial pressure and opportunity, a significant portion of employees in the industry can rationalize fraud. Taken together, this unique combination of motivations, opportunities, and rationalizations suggest that, as the coal industry faces unique financial pressure, it also creates conditions that are highly conducive to widespread fraud.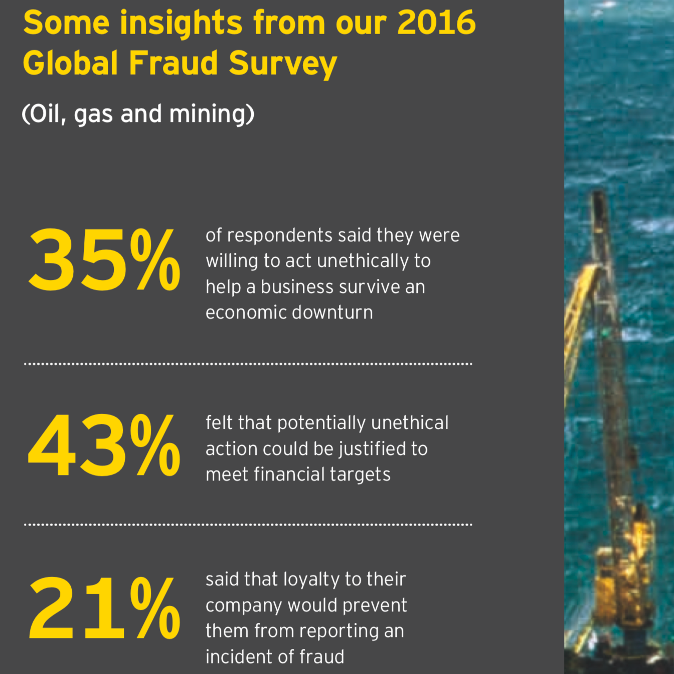 Findings from 2016 EY Survey of Oil, Gas and Mining Industry Managers