When Whistleblowers Get Rewards: Assessing the SEC's Whistleblower Reward Program
Published December 2018
Whistleblowers: The U.S. Securities and Exchange Commission ("SEC") Office of the Whistleblower's reward program has fulfilled its obligation to compensate informants.
The National Whistleblower Center has conducted an analysis of Securities Exchange Commission (SEC) Whistleblower Program rewards to whistleblowers who report crucial information for successful prosecutions. This data includes all laws enforced by the SEC which include a whistleblower reward mandate.
An approximate six-year span between 2012 to 2018 includes 131 distinct prosecutions with documented and publicly-available whistleblower award proceedings. Of these cases, 45 resulted in whistleblower awards. As some cases included several whistleblowers, these 45 cases resulted in 59 total awardees.
In contrast, during this same time period, there were 86 cases in which a whistleblower petition for award resulted in the complete denial of any award to a whistleblower. Note that additionally, 32 individual claimants were denied while other whistleblowers in the same case were given awards. The courts and the SEC are clearly looking carefully at whistleblower petitions and ensuring that only the most deserving are granted a reward.
Since the first positive whistleblower award determination in 2012, the documents show that the SEC Whistleblower Program has awarded whistleblowers at least $318.78 million, while the SEC reported to Congress that it has awarded whistleblowers over $326 million.
Therefore, it is apparent that the lack of complete data, as a result of redactions and missing documentation, underestimates the value of whistleblowers to SEC's enforcement capacities.
Over $326 million has been awarded to whistleblowers.
The importance of whistleblowing, after under a decade of rewards data, is quite clear: those who blow the whistle are a crucial law enforcement component.
The data paints a picture of the crucial nature of whistleblowers to these prosecutions. The most common reasons for why a whistleblower should receive a reward was that the whistleblower prompted the investigation.
The words of the SEC's own law enforcement agents and policy implementers are enormously significant and show the true power of whistleblowers. Here's what they said:
» Extensive or ongoing assistance
» Significance of information contributed
» Hardship or retaliation endured
» Voluntarily offering information, including to other government agencies
» Saved investigatory resources
» Hard to detect violations
» Information helped to end an investigation
» Provided independent knowledge or analysis not otherwise available.
The whistleblowers who bring wrongdoing to the government's attention are instrumental in preserving the integrity of the government.– Former Principle Deputy Assistant Attorney General Stuart Delery, U.S. Department of Justice, remarks made at the American Bar Association's 10th Annual National Institute on the Civil False Claims Act and Qui Tam Enforcement (2012)

[A whistleblower] "admission often brings… [an] added measure of public accountability. — Chairman Mary Jo White, Securities and Exchange Commission, remarks at the Securities Enforcement Forum, Washington DC (2013)
A snapshot of 2018
Much can also be learned by what is happening in just the six months. NWC compiled a snapshot of all notices of covered actions by the SEC cases, regardless of the law at issue, in which whistleblowers were involved. This data is particularly useful as it covers all cases investigated and prosecuted by the SEC and involving whistleblowers where the SEC believes that a whistleblower (or several whistleblowers) may have a valid claim for a reward. The data also details whether a complaint has been filed or the case has been settled and the amount of sanctions either brought in or to be brought in by the government through each case.
In just six months, the SEC has brought in at least $449,489,571 through 24 cases involving whistleblowers. The average case brought over $18.7 million in fines.
This data would indicate that at least 24 foreign whistleblowers may be entitled, per case, to between $1.21 and $3.63 million (between 10% and 30% for each case).
These figures prove that the SEC's whistleblower program works and is necessary for effective prosecution. While these cases are not necessarily prosecutions for violations of the FCPA, the program analyzed here is the same used by some FCPA whistleblowers. The general effectiveness of the program parallels the reasonable expectations of whistleblowers' influence on successful FCPA prosecutions.
Whistleblowers are a proven way to obtain high-quality information.
A strong monetary incentive to blow the whistle does motivate people with information to come forward… without the negative side effects often attributed to them. [T]here is no evidence that having stronger monetary incentives to blow the whistle leads to more frivolous suits. — Alexander Dyke, et al., University of Chicago Booth School of Business
Statements from elected leaders, law enforcement officials who work directly with whistleblowers on the ground, and appointed leadership in the agencies that implemented whistleblower programs demonstrate a high regard for whistleblowers. Statistics on the use of whistleblower tips by the relevant agencies verify their effectiveness.
Whistleblower tips are by far the most used detection method for U.S. agencies. See Fig 1. Additionally, reports released by the SEC Office of the Whistleblower on the use of whistleblower tips verify the effectiveness of these tips.
For example, approximately 15% of whistleblower tips received by the SEC lead to some form of investigation. By comparison, the DOJ has an intervention rate (including settlements) of nearly 25% in qui tam False Claims Act cases that are filed by whistleblowers. Further, in FY 2017, the U.S. government recovered over $3.7 billion through its civil fraud program. Of this amount, whistleblowers were directly responsible for the detection and reporting of over $3.4 billion (92%), under qui tam provisions. As a result of this assistance, whistleblowers were awarded $392 million (11.5%).
» Statements from elected and appointed leadership in the agencies that implement whistleblower programs.
» Statements from law enforcement officials who work directly with whistleblowers on the ground.
» Statistics on the use of whistleblower tips by the relevant agencies.
» Data on the amount of money collected by the government and distributed to whistleblowers after successful prosecutions and settlements that are only or largely possible because of whistleblower information.
Whistleblowers play an integral role in keeping institutions honest, ethical, and safe, providing information to both law enforcement for prosecutions and to civil society for accountability to the public.
The whistleblower program . . . has rapidly become a tremendously effective force-multiplier, generating high quality tips, and in some cases virtual blueprints laying out an entire enterprise, directing us to the heart of the alleged fraud. — Former Chairman Mary Jo White, Securities and Exchange Commission, remarks at the Securities Enforcement Forum, Washington DC (2013)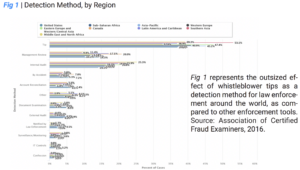 Internal Reporting is Strengthened by SEC Oversight.
The 2018 SEC Office of the Whistleblower Report to Congress acknowledges the interaction between internal reporting and compliance programs, and the SEC's own whistleblower reward program.
"There is no requirement under the Whistleblower Rules that an individual be an employee or company insider to be eligible for an award. However, approximately 69% of the award recipients to date were current or former insiders of the entity about which they reported information of wrongdoing to the SEC. Of the award recipients who were current or former employees of a subject entity, approximately 83% raised their concerns internally to their supervisors, compliance personnel, or through internal reporting mechanisms, or understood that their supervisor or relevant compliance personnel knew of the violations, before reporting their information of wrongdoing to the Commission."
[When the SEC] "whistleblower program was being set up, many in the securities bar… worried that the program would undermine internal compliance efforts. [But it has] the opposite effect… Companies are beefing up their internal compliance and making it clear… [that] internal reporting will be treated seriously and fairly. And most in-house whistleblowers that come to us went the internal route first." – Former Chairman Mary Jo White, Securities and Exchange Commission, remarks at the Securities Exchange Forum, Washington D.C. (2013).
Whistleblowing Outside of U.S. Borders
In Dec. 2017, a whistleblower was awarded more than $4.1 million for stepping forward with information despite the risk he would suffer retaliation for his bravery.
This whistleblower exemplifies much of what we know about how information is kept secret and how illicit profits are made. A "former company insider," he both alerted the SEC about a criminal enterprise "and continued to provide important information and assistance throughout the … investigation." This original information was critical for the SEC to even know that a violation of the law was occurring.
Yet his concerns also reflect the types of worries by the right person with the right information – that the laws wouldn't be enough to protect him after he stepped forward. As a "foreign national working outside the" U.S., the SEC award determination notes that the whistleblowers' concerns that American "employment anti-retaliation protections" may not be meaningful outside of U.S. borders. As a result, the financial reward provides important motivation; it incentivizes those with original insider information to come out of the shadows.
Similarly, in 2014 the SEC announced what was then its largest-ever award to a whistleblower: over $30 million. The SEC noted that this individual "provided key original information," and was thus a crucial component for halting this ongoing crime. And again, in 2018 a whistleblower was awarded $4 million, and the SEC noted that the whistleblower "provided extensive assistance… throughout the course of the investigation."
While the SEC maintained the confidentiality of these whistleblowers, the agency did disclose in all cases that the whistleblower was living in a foreign country. As a result, this was necessarily a violation of the Foreign Corrupt Practices Act ("FCPA").
Whistleblowers from all over the world should feel similarly incentivized to come forward with credible information about potential violations of the U.S. securities laws. — Former Chief of the SEC's Office of the Whistleblower, Sean X. McKessy (2018)
The International Reach out of SEC whistleblower program.
The effectiveness of the SEC program is driven in part by the extensive allowances for international jurisdiction by U.S. law enforcement authorities. This global reach helps ensure transparency, accountability, and ethical business practices worldwide.
For example, the FCPA is often known as the law used to prosecute bribes paid abroad by companies directly or indirectly connected to the U.S. The law does something that the average layperson may think is not possible: the FCPA establishes U.S. jurisdiction for bribes paid in foreign countries by foreign nationals to foreign government officials.
According to the SEC, since 2011, a total of 3,305 whistleblowers from 119 countries outside of the U.S. have filed claims under whistleblower reward provisions. See Fig 2.
It is clear that those in charge of implementing the law understand the importance of whistleblower tips to their ongoing law enforcement success. In 2017, the SEC confirmed that high-quality whistleblower tips and allegations have triggered over 700 pending or ongoing investigations.

The SEC program has received a total of 28,100 whistleblower tips between FY 2011 and FY 2018.
The number of individuals submitting tips from abroad constitutes 11.76% of the individuals who participated in the SEC whistleblower program. However, international whistleblowers submit particularly high-quality tips leading to more often successful prosecutions: international whistleblowers are 20.3% of whistleblowers who receive a reward through the SEC whistleblower program.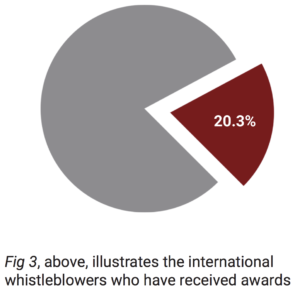 International whistleblowers can add great value to our investigations. — Former Director Andrew Ceresney, Division of Enforcement, U.S. Securities and Exchange Commission, remarks made at the Sixteenth Annual Taxpayers Against Fraud Conference (2016)
Conclusion
Whistleblowers are powerful tools for detecting fraud and corruption. Laws which utilize whistleblower rewards have been proven to incentivize whistleblowers to come forward using appropriate law enforcement avenues with high-quality information. These tips are crucial for the continued success of our law enforcement programs against fraud, corruption, and other criminal behavior.
Supporting protection and reward programs for brave individuals who blow the whistle should be of the utmost importance to anyone seeking to implement laws worldwide.
Resources: