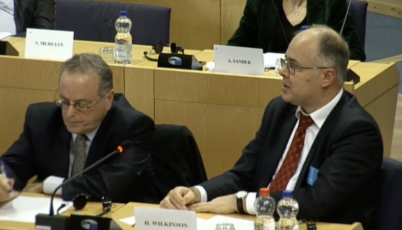 Howard Wilkinson
Howard's Story:
Howard Wilkinson is a former employee of Danske Bank who confidentially raised concerns over an illegal money laundering scheme in 2013. In September of 2018, news reports on the $234 billion scandals revealed the existence of a whistleblower but not the identity. Mr. Wilkinson had wished to remain anonymous, but his name was leaked to an Estonia newspaper.
"Mr. Wilkinson is an international hero," said Stephen M. Kohn, Chairman of the National Whistleblower Center. "He risked his career and livelihood to stop a massive money-laundering operation and to hold banks accountable," Kohn added.
The investigation is ongoing. Mr. Wilkinson is represented by top whistleblower attorneys Kohn, Kohn & Colapinto, LLP ("KKC"), who sent demands on September 2018 to law enforcement authorities in Estonia and Denmark take actions to protect Howard Wilkinson from whistleblower retaliation.
He has testified before the Danish Parliament and European Parliament. He had an inclusive interview with 60 minutes explaining how he exposed the biggest money-laundering scandal in history.
Read Howard's full story and learn what the National Whistleblower Center is doing to advocate for Howard and whistleblowers like Howard here.
Additional Resources: