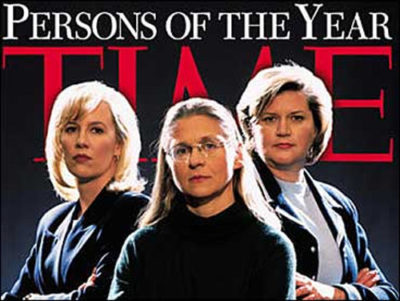 Cynthia Cooper and Sherron Watkins
Cynthia Cooper and Sherron Watkins exposed corporate misconduct in the infamous Enron and WorldCom scandals paving the way for the enactment of the SOX corporate reform law. Sherron Watkins is the Enron vice president who wrote a letter to chairman Kenneth Lay in the summer of 2001 warning him that the company's methods of accounting were improper.
Cynthia Cooper exploded the bubble that was WorldCom when she informed its board that the company had covered up $3.8 billion in losses through the prestidigitations of phony bookkeeping.
In recognition of their whistleblowing, Cooper and Watkins (along with Coleen Rowley) were named Time Persons of the Year in 2002.